With the unfortunate health situation of past years, GIMP team had not been able to meet since 2019. This affected the software evolution (commit numbers have been divided by about half!) because for many of us, GIMP is more than a software: it's people, it's a community. So motivation shrank by lack of social encounter.
Therefore we are glad to announce the return of Wilber Week: our week-long meeting of GIMP contributors (started back in 2017 as a companion to the Libre Graphics Meeting).
A month ago, we had our second Wilber Week in Amsterdam!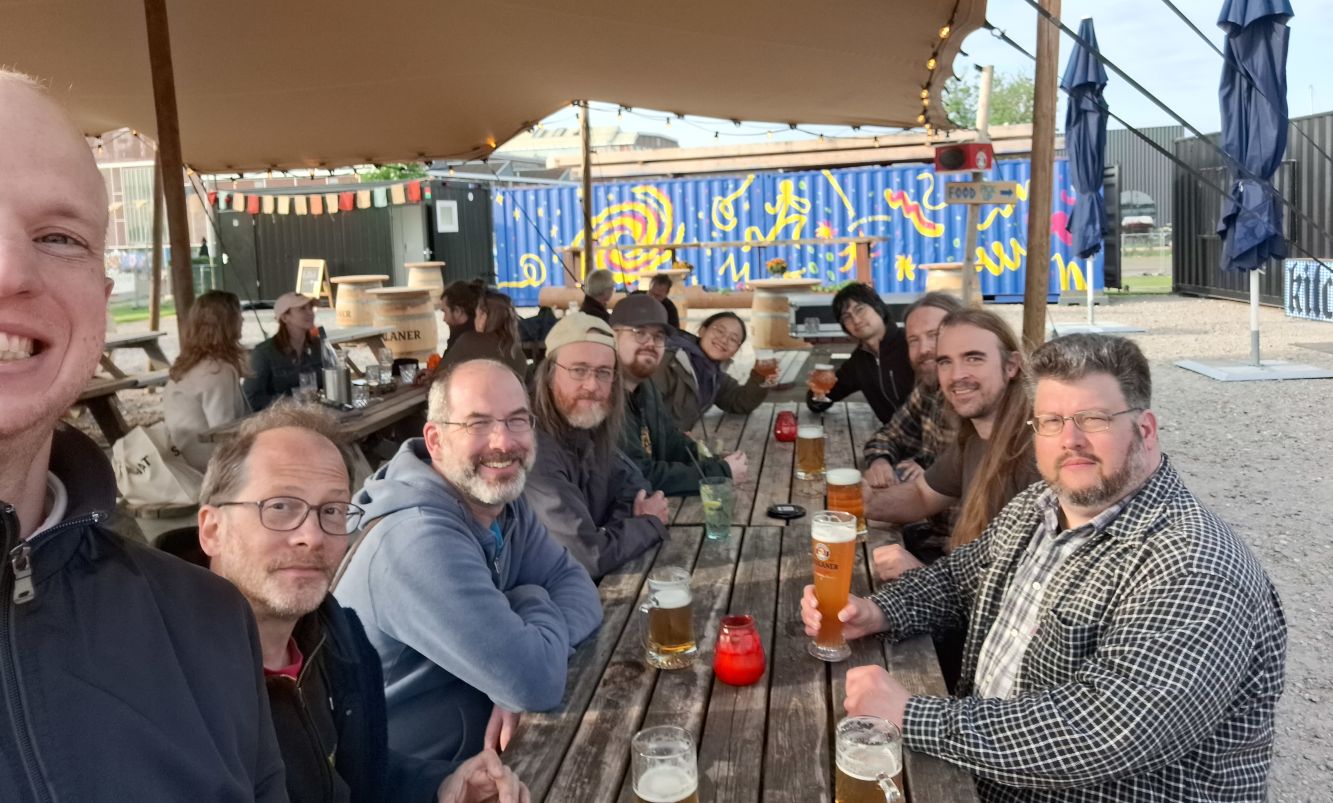 Setting up¶
This year, 10 GIMP contributors showed up, by alphabetical order:
Additionally we invited 2 Inkscape contributors. What started as a simple toot on Mastodon transformed into a private discussion with Martin Owens from Inkscape who was hoping to discuss color management with us. So we invited them to enjoy our hacking retreat and discuss further!
In the end, Marc Jeanmougin, Inkscape developer, and Chris Rogers, graphics contributor, spent the week with us!
We were all lodged in a fricking century-old sailing boat. No joke! That was an insanely cool place where we could start hacking from day one!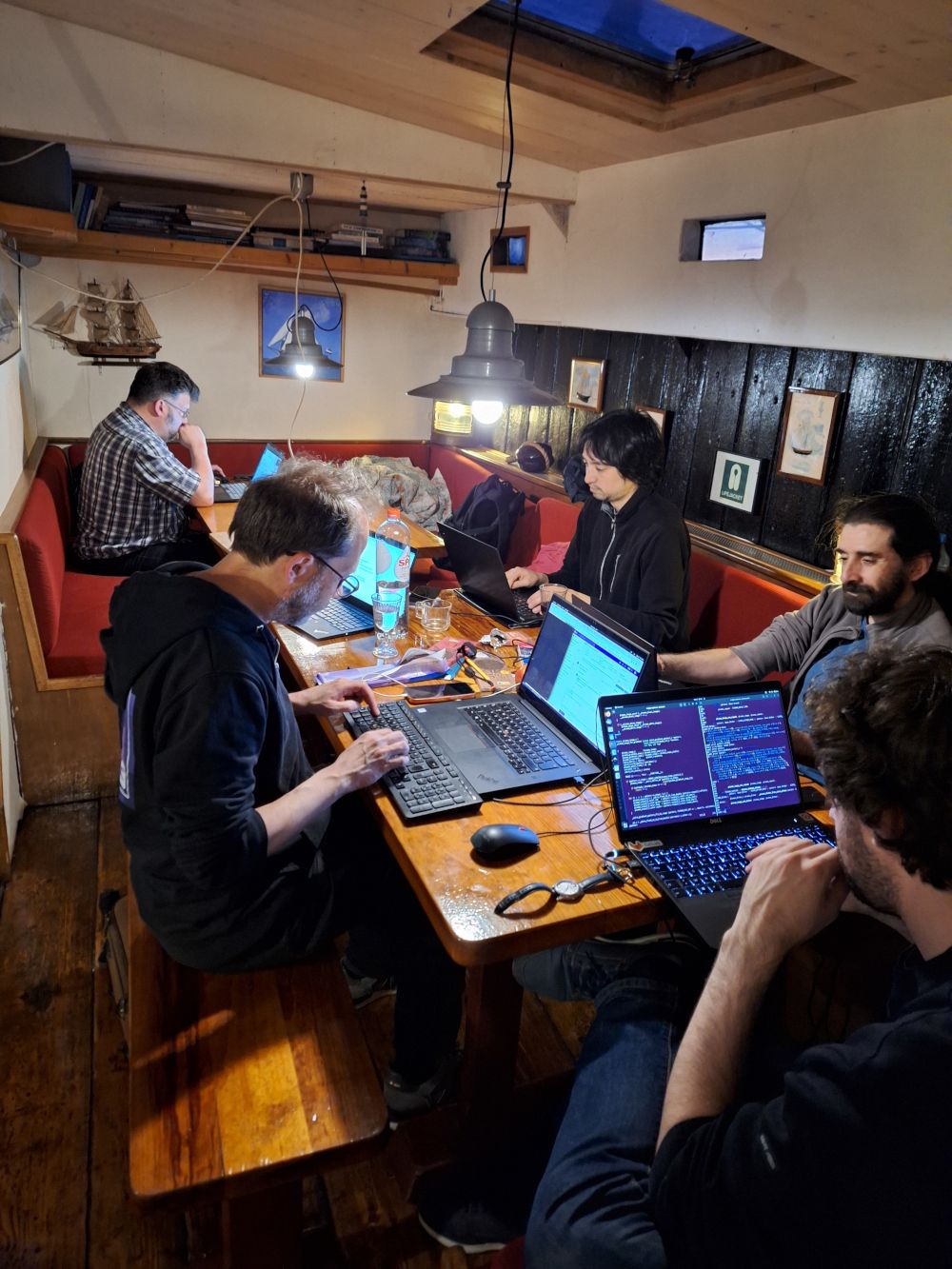 About the city itself, let me state for the record that, as a vegan and pro-soft transportation, Amsterdam seems like a very nice place to live in!
Blender Foundation headquarters¶
The Blender Foundation gracefully lent workshop and meeting rooms to our team.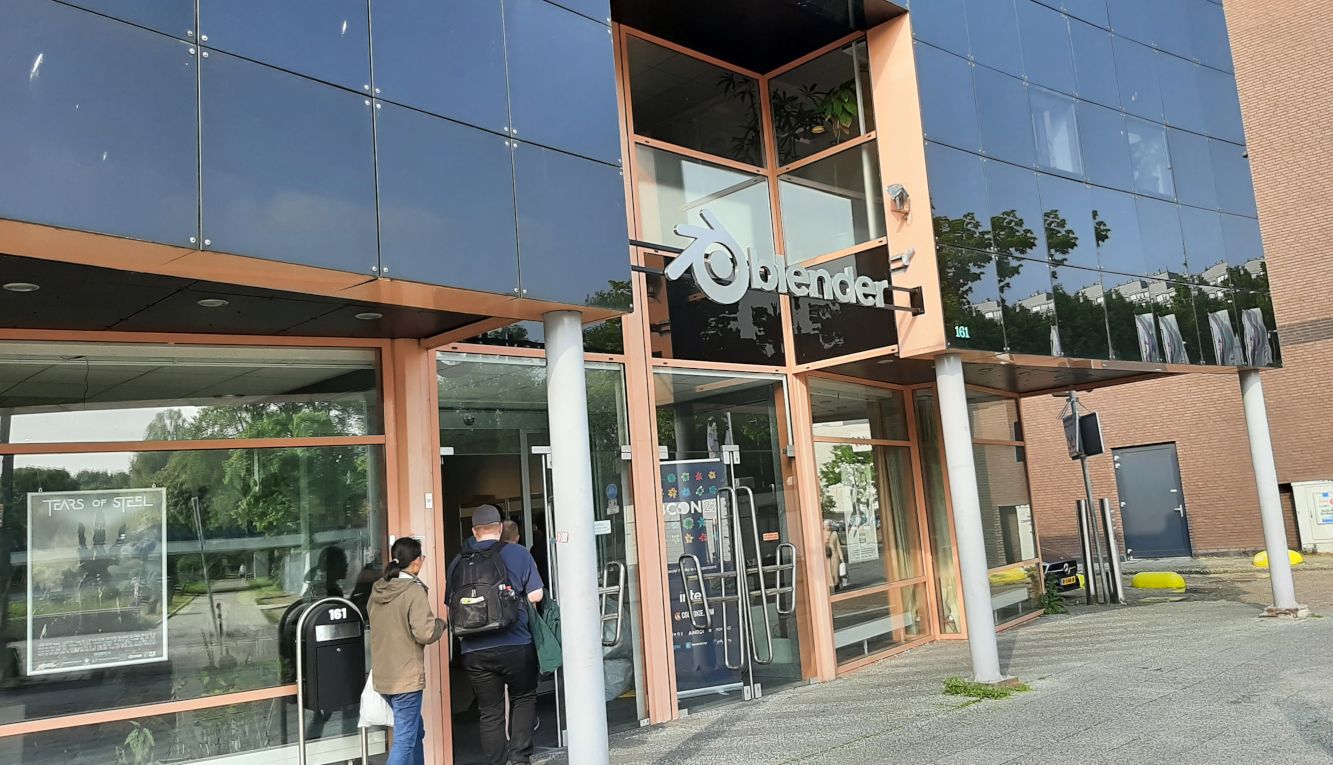 Of course, having "desks" was not our real reason to choose this office. It was very cool to meet Blender teams. We were also able to have various interesting discussions. Quite notably, Nathan Vegdahl from Blender was extremely welcoming and showed us a lot of very cool stuff!
As was expected, we discussed about color management, in particular in Wayland as Sebastian Wick, major contributor for color management in Wayland was pulled in a few times (thanks to Niels!) through remote video calls. This was very constructive!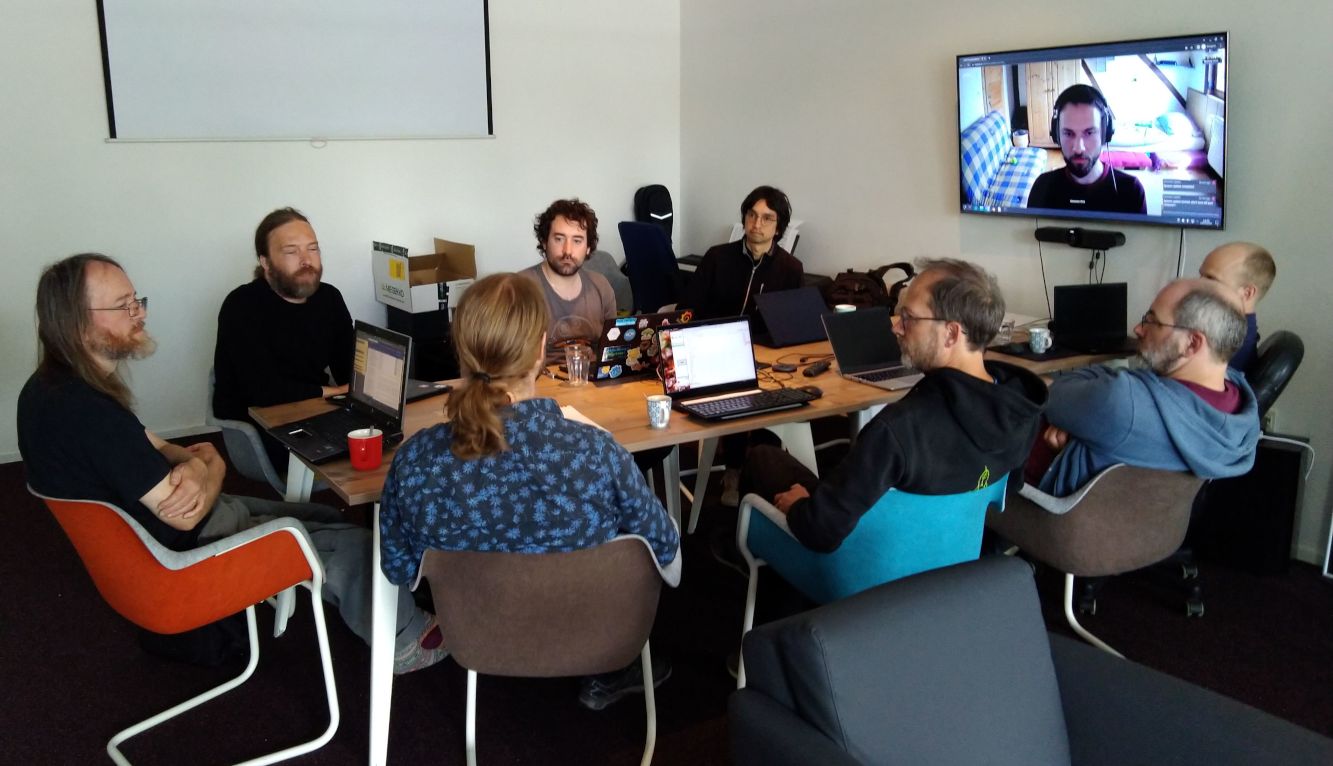 Bottom line: the interactions with Blender folks made the trip quite worthwhile!
In the same time, there were more things I was hoping to discuss, such as better file exchange and interactions between our programs (think Libre Graphics Suite, a major gripe we have at ZeMarmot project as we work with all these software and it's not always easy!). There was already so much going on that this didn't happen. Hopefully the opportunity will come again!
Immediate consequences¶
Bug fixing! Mitch is back!¶
This was a very packed week for hacking on GIMP, fixing bugs, improving long overdue code and so on. A huge part of this was thanks to the fact that we got our co-maintainer back, Michael Natterer, a.k.a. mitch!
We missed him dearly and it's so good to have him looking over our code once more, as well as hacking frenziedly until late at night, like the old times!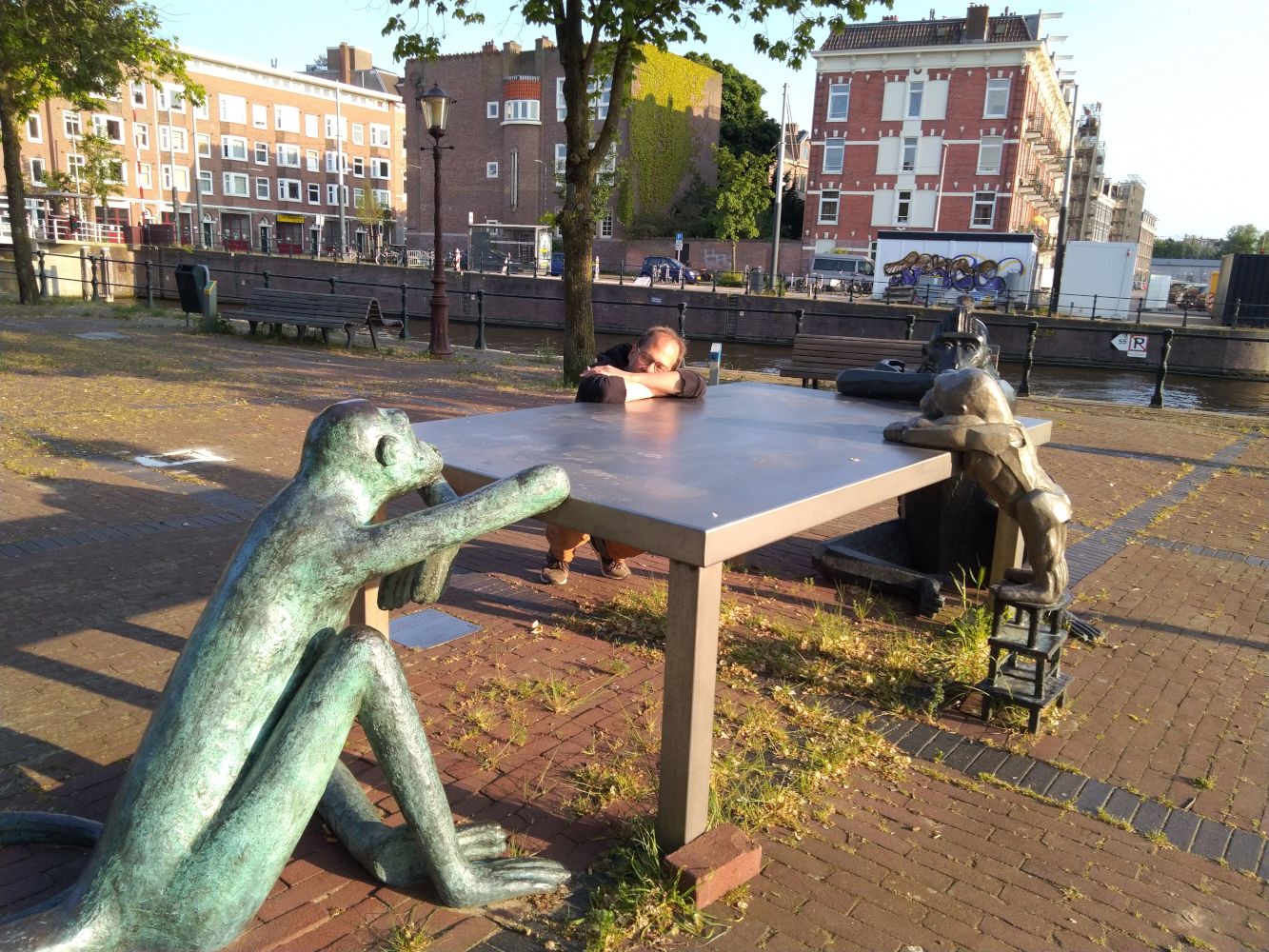 Of course, a lot of other old-timers came back to code for the occasion, so let's not forget them all!
Improvements¶
Among the many things which happened during this very eventful week (or as direct consequences), let's mention:
Simon Budig should be commended for fixing warnings, cleaning code and updating code away from deprecated

API

!
Niels de Graef and Carlos Garnacho helped with various

GTK

- and Wayland-related fixes. This also resulted in patches in

GTK

or other dependencies, not only in

GIMP

.
The plug-in

API

got seriously worked on, adding support of GBytes as plug-in arguments, improving the new GimpResource class and subclasses allowing plug-ins to easily manipulate various data (brushes, dynamics, patterns…) and more.
Autotools is finally gone from our main repository! (though it is still present in the stable branch)
Our Continuous Integration now shows JUnit reports from meson unit tests.
Ville is getting used to improving our themes: he did the 2.10 ones, now again he helped on the Default 3.0 theme, improving work started by other contributors.
As a direct result of Wilber Week, Carlos implemented, soon after, pad customization ability to

GIMP

(with a very nice write-up on this work). As review will take some time, it won't be in 2.99.16 though will definitely end up in

GIMP

3.0!
Aryeom worked on an updated logo, with the help of various

GIMP

contributors (in particular Ville, Øyvind and Simon) as well as Chris from Inkscape. This is still work-in-progress.
Some improved

GEGL

integration discussion and work happened during the week, then continued after, allowing to easily add third-party

GEGL

operations in

GIMP

's menu and search for them in the action search (note: implementation changed since these toots; not all operations end up in menus now, only when a specific metadata is present in the operation).
Aryeom updated the splash screen for the next development version (to be continued…).
While they couldn't be present unfortunately, we shouldn't forget Jacob Boerema, Alx Sa and others who continued to improve

GIMP

remotely in the same time!
Since we had 3 projects selected in GSoC 2023 with Liam and myself as mentors, we had GSoC meetings as remote calls with the students.
Dropping bitcoin donation method¶
We have had a bitcoin address on the website. Some people have asked for more crypto-currency options. With a rise in scams, high energy use and differing national tax implications, we have decided — after discussion and a vote during Wilber Week — to no longer feature a bitcoin donation link.
The donations in bitcoin have been received, some of them used, but we are still working on how to properly channel these funds towards our expenses.
Making plans¶
A foundation?¶
It turns out that we have been interviewed by Pablo Vazquez while in Blender's, so the cat is out of the bag in a quite public way now: we have been trying to set up our own entity. But first, since I teased you, here was the interview:
In case you wonder, the slides can be found here, they were taken from a end-of-event presentation I gave to Blender folks.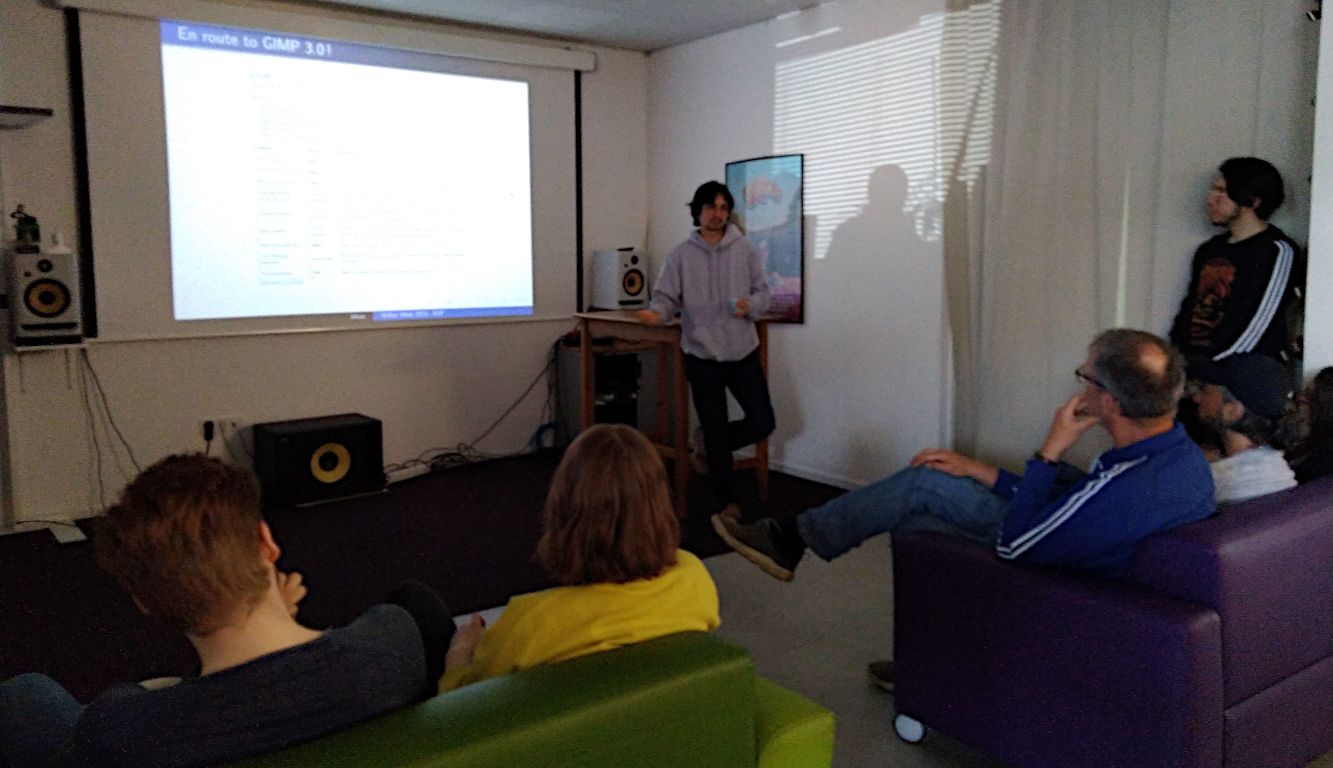 Making a proper entity for GIMP is something which has been on my mind for many years and which I started to discuss with others of the team, and with friends from other non-profits to help me find the best way, since 2019! After some hiatus on this project, I revived my work on it late 2022, and we are actually quite advanced, though I will refrain on giving too much details now in order not to jinx it.
Let's see how it pans out!
Now something to be clear about: GIMP has always been a bit of a messy and friendly community project. And that's part of what I like about it: this bit of anarchy. Whatever we build to support the project, I will always fight for this spirit to live on. This was in fact one of the difficult part of setting up an organization and why it took so long: doing so without the organization taking over the project, but instead as a support to the community.
GIMP

3 and onward! ⛵¶

Clearly this Wilber Week made me trust that my initial plan (outlined in the 2022 report as hoping to have GIMP 3.0 release candidates this year) should be possible. If we can keep the community as lively, there is high chance to see this happen.

We are clearly sailing in exciting times, right now, toward a very cool future! 😄
What's next¶
For anyone interested, the meeting page on the developer website gives a bit more details on what happened, what was actually discussed, meeting notes, etc.
Right now, we are deep into preparing the release of the next development version of GIMP (GIMP 2.99.16). And while it's not even out, we are already quite excited about the next one (which might even be a release candidate in the best case!).
In the meantime, do not forget you can donate and personally fund GIMP developers, as a way to give back and accelerate the development of GIMP. Community commitment helps the project to grow stronger! 💪🥳