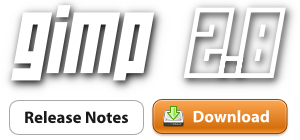 GIMP is the GNU Image Manipulation Program. It is a freely distributed piece of software for such tasks as photo retouching, image composition and image authoring. It works on many operating systems, in many languages. (more...)
This is the official GIMP web site. It contains information about downloading, installing, using, and enhancing it. This site also serves as a distribution point for the latest releases. We try to provide as much information about the GIMP community and related projects as possible. Hopefully you will find what you need here. Grab a properly chilled beverage and enjoy.
The price of being popular...
2014-12-26

When software is popular, then there are elements out there who seek to profit from it by less ethical means. Installer packages with added spyware, adware or even malware are apparently part of the (Windows) user experience these days.
GIMP is being attacked in that manner as well, In order to keep safe, get GIMP from our own downloads pages or the sites we link to, and be very cautious when going elsewhere.
One victim of this is GIMPshop - started as a fork of GIMP to add UI terms that are more familiar to users of Adobe Photoshop, it is nowadays used to load third-party software onto the unwary user's system. Thankfully, the original author is not to blame, as this operation is run by someone else.
GIMP Magazine Issue #6 released
2014-11-19

The newly released issue #6 of GIMP Magazine features a "Using GIMP for portrait and fashion photography" master class by Aaron Tyree who uses GIMP professionally, and a gallery of other artworks and photos made or processed with GIMP.
The team is planning to switch to monthly releases, however they need your support to cover the costs of publishing a free magazine. You can sponsor the project at Patreon or visit the magazine's gift shop to make a donation.
Updated 2.8.14 Installer for Microsoft Windows
2014-09-02

We have released an updated 2.8.14 installer (http) for Microsoft Windows. This one fixes the crash on window resize and the missing icons bugs - all by updating the included GTK+ library to 2.24.24.
Still unsolved are the missing spacing character in the zoom drop down and the disappearing background on high zooms (updating the Pango and Cairo libraries that are didn't change anything there), investigations continue.
Please continue to report bugs, we can't fix what we don't know about.
GIMP 2.8.14 Released
2014-08-26

Yesterday's 2.8.12 release had broken library versioning, so we had to roll out GIMP 2.8.14 today. The only change is the fixed libtool versioning. Please do not distribute any binaries of yesterday's broken 2.8.12 release, and get GIMP 2.8.14 using the torrent: http://download.gimp.org/pub/gimp/v2.8/gimp-2.8.14.tar.bz2.torrent
GIMP 2.8.12 Released
2014-08-25

GIMP 2.8.12 released, with a lot of bug fixes! This is a bugfix release in the stable 2.8 series, no new features were added. For the list of changes please refer to the NEWS file.
Please use the torrent at http://download.gimp.org/pub/gimp/v2.8/gimp-2.8.12.tar.bz2.torrent and keep seeding it a bit, because we are currently low on mirrors. Builds for Windows and Mac will be available soon.
GIMP Manual 2.8.2 released
2014-08-14

A new version of the user manual has been released. Changes include:
complete translation to Brazilian Portuguese
many, many, many bugfixes
You can click here to download the 2.8.2 release package. This release provides only the sources to build the help used by the GIMP Help browser. Find the packages on our download server.
For easy installation we suggest that you wait until an installer for this release has been packaged for your platform. Find more releases and information about our goals and how you can help at http://docs.gimp.org.
Download server renamed to download.gimp.org, no FTP anymore
2014-05-13

Heads-up if you are still accessing the downloads via ftp.gimp.org:
The downloads server has been renamed to download.gimp.org, and it doesn't support FTP anymore. If you have linked any file, installer package, source archive or directory with an ftp://-Link, please change it to http://. The directory structure is unchanged.
Gimp-Perl release candidate ready for testing
2014-06-12

It's been possible to use various scripting languages to automate GIMP for a long time. But until recently Perl bindings for GIMP were considerably out of date due to lack of interest from contributors. Fortunately, a while ago Ed J started working on updating those, and now a release candidate is available for testing.
Gimp-Perl version 2.30_05 is on CPAN now. It supports GIMP 2.8 and provides the following features:
An autosave script (not installed by default, examples/autosave2) will save in its own directory files that were opened and changed, then reopen them on GIMP startup; if installed, will start along with GIMP.
A plugin registry viewer, installed by default to Filters/Browse Plug-in Registry.
A Perl console, installed by default to Filters/Perl/Console.
The way to install the release candidate on Linux is:
perl -MCPAN -e "install 'ETJ/Gimp-2.30_05.tar.gz'"
If you encounter any bugs, please report them on bugzilla.gnome.org.
Libre Graphics Meeting 2014
2014-01-23

The Libre Graphics Meeting is a conference where artists, users, developers, designers, contributors, ... who use, plan, develop, play with, tamper with, Free, Libre and Open Source Graphics applications, libraries, concepts, ...
It is an unparalleled opportunity for them to meet, talk, discuss, listen, experience and learn about their favorite tools, the uses, the undiscovered potential, the new ideas that come with them
This year, Libre Graphics Meeting will happen at the University of Leipzig, April 2-5.
The attendees arrive from all over the world - last year, people from 26 countries traveled to Madrid to attend. Maybe there will be even more this year?
You can help to make this happen - and many of you already did.
We, the GIMP team, are covering the travel and accommodation expenses for our own team members, and we contribute to the global LGM funds as well. These funds are used to reimburse the travel expenses of contributors and speakers.
Our contribution is possible due to your donations - many, many thanks for this, the return on investment from such meetings for the projects is invaluable.
But, the LGM organizers, they ask for modest contributions, always keen not to drain the funds of the projects that attend the meeting. We've got our planned expenses covered for this LGM, so we'll ask you to force them to take more! :)
LGM runs a travel fund pledgie campaign with an ambitious goal: $12000. Please go there and contribute to make this awesome meeting possible.
Yours,
the GIMP team
What we did in 2013
2013-12-24

Before you leave for the holidays, we thought you'd like an overview of what we did this year to improve GIMP for you.
Most of the time was spent on improving the GEGL-based version of GIMP (to be released as v2.10) and porting GIMP plugins to GEGL, so that you could benefit from 32bit float precision per color channel as much as possible.
We also successfully participated in Google Summer of Code 2013 and merged more code from GSoC2012 into the main development branch, namely Seamless Clone and Warp Transform tools.
You can find out a lot more in this detailed report. We wish you to have a great time with your family and friends!
GIMP Manual 2.8.1 released
2013-11-28

We've released a new version of the user manual with:
many, many, many bugfixes
New (incomplete) translations: Brazilian Portuguese, Danish, Catalan
The online version of the manual provides a language menu. Readers are now able to easily switch to a different language of the same page.
It is easier to report bugs: Each page has a link at the bottom to report errors straight into Bugzilla.
Find the packages on our FTP server.
For easy installation we suggest that you wait until an installer for this release has been packaged for your platform. Find more releases and information about our goals and how you can help at http://docs.gimp.org.
An additional bug fix release for GIMP 2.6 has been prepared as well: 2.6.2. It contains content fixes and an improved build system.
GIMP 2.8.10 Released
2013-11-28

We just released GIMP 2.8.10 ! This is a release in the stable GIMP 2.8 series. This release fixes a bug that prevented older GIMP versions from running on OS X Mavericks. We also did some small adjustments to the Save/Export code in order to make things a bit easier. For the complete list of changes please see the NEWS file.
Google Summer of Code 2013 results
2013-10-04

GSoC2013 program is over now, and 3 out of 4 students successfully completed it.
Carlos Zubieta ported 13 GEGL operations to use GPU via OpenCL, and the gegl-random module used by noise generation operations, then made noise-hsv and noise-cie-lch operations use it. You can read his report.
Simon Lui ported the PSD plug-in to use GEGL. GIMP is now capable of loading 16bit and 32bit per color channel PSD files, saving those is a work in progress. The updated plug-in also reads additional data from PSD files (text, slicing information, layer effects), but cannot use it yet: text support needs the relevant API in GIMP, and layer effects and slicing aren't implemented in GIMP yet, so there's nothing to map the information to as of now. His public report is here.
Marek Dvorožňák implemented a new N-Point deformation tool that makes it possible to deform objects while preserve shapes consistency. You can watch a video demonstration of the tool on YouTube. The work is based on a "As-Rigid-As-Possible Image Registration for Hand-drawn Cartoon Animations" paper by Daniel Sykora et al.
Finally, Ajay Ramanathan attempted to merge selection tools into a single tool selection with modes (rectangular, ellipse, single row/column, N-side polygon selection modes).
All the source code created by our students is available in respective Git branches. We will review it and make sure we use the most of it. We thank Carlos, Simon, Marek, and Ajay for working with us over the summer and we are looking forward to working with them in the future!
Sponsoring symmetric painting mode
2013-09-23

Jehan Pagès, one of our active contributors, started a personal crowdfunding campaign to sponsor his work on symmetric painting in GIMP. You can find more information in his blog, and there's a video of a proof-of-concept implementation on YouTube. If you care about GIMP as a tool for digital painting, supporting this project is likely to benefit your workflow.
While we are not ready for a full-fledged crowdfunding campaign for GIMP yet, we think that this kind of focused campaigns, tailored for particular audiences, definitely have merit.