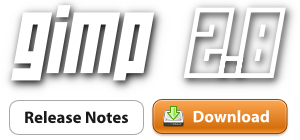 GIMP is the GNU Image Manipulation Program. It is a freely distributed piece of software for such tasks as photo retouching, image composition and image authoring. It works on many operating systems, in many languages. (more...)
This is the official GIMP web site. It contains information about downloading, installing, using, and enhancing it. This site also serves as a distribution point for the latest releases. We try to provide as much information about the GIMP community and related projects as possible. Hopefully you will find what you need here. Grab a properly chilled beverage and enjoy.
GIMP accepted to participate in Google Summer of Code 2013
2013-04-08

GIMP will be taking part in this year's Google Summer of Code program as a mentoring organization. We are inviting interested students to get in touch with us and start discussing potential projects.
Some project ideas have already been posted in the wiki, but you are free to come up with your own ones. At this point porting existing plug-ins to GEGL has the highest priority, as it will aid us in releasing GIMP 2.10 sooner.
If you are eligible for participation and eager to contribute to our project, please introduce yourself on the mailing list for developers or in the #gimp channel at irc.gimp.net. In the latter case please bear in mind that the core team is mostly in the Western Europe timezone.
Google Summer of Code 2013 program announced
2013-02-12

Yesterday Google announced Summer of Code 2013 program. Participating at GSoC has proved to be rather beneficial to us. Here are just some of the features implemented during past runs of the program: five new tools (Heal, Perspective Clone, Cage Transform, Warp Transform, Seamless Paste), resources tagging, hardware acceleration in GEGL. Needless to say, we'll try to participate this year again.
We already have a preliminary list of project ideas for this year's program: improving selection tools, implementing sophisticated slicing tool for web designers, creating a full-featured OpenEXR plug-in. However, the top priority project for us would be porting more plug-ins to GEGL, which is one of the issues that block the release of GIMP 2.10.
Even though we won't know whether we are participating until April 8, if you are considering to work with us this summer, we suggest that you start talking to us already. When we vote for students, we need to know you well enough to make a fair judgment. Please find out if you are eligible for the program, then join the developers mailing list or talk to us on IRC.
GIMP 2.8.4 for OSX Available
2013-02-10

GIMP 2.8.4 is now available as disk image for Mac OSX.
Please note that with this release, we have moved GIMP's per-user data from "~/Library" to "~/Library/Application Support". If you had installed GIMP 2.8.2 before, please open a terminal and enter the following command, so GIMP 2.8.4 will pick up your data from the right location:
mv ~/Library/GIMP ~/Library/Application\ Support
GIMP 2.8.4 Released
2013-02-05

GIMP 2.8.4 is out! This is a release in the stable GIMP 2.8 series, featuring lots of bug fixes and translation updates. For the complete list of changes please see the NEWS file.
Pre-built binaries for Mac will be available soon.
GIMP in 2012
2012-12-27

As 2013 is fast approaching, we'd like to take a quick look at 2012 and what we did during the year.
In May we released the long anticipated new stable version, v2.8, with many improvements such as layer groups, tagging of resources, new Cage transform tool and more.
We also started the final transition to GEGL as a new image processing core. All legacy from the libgimp has already been removed.
Unstable version of GIMP is now capable of working in 16 and 32 bit per channel modes, both integer and float. Color management has been improved as well, and thanks to support by AMD and Google the GEGL library can do GPU-side rendering and processing with OpenCL.
We successfully participated at Google Summer of Code 2012. Our students ported more GIMP filters to GEGL operations, created a node compositing application for testing GEGL, and implemented a unified transform tool for GIMP.
In past years we let our work with community slip, so this year we also tried to establish a better connection with our user base. Our Google+ page, where we now regularly share project news and useful GIMP tutorials we come across, is currently circled by ca. 22.000 people (as compared to 1.000 in January 2012).
Last, but not least, we are happy to see the community actively promoting GIMP of its own accord. E.g. this year the GIMP Magazine project was started, with two issues already published and the 3rd issue currently in the works.
Thanks to all contributors our project vision is becoming a reality. GIMP already works in HDR, partially uses GPU for rendering and processing, has better transformation tools.
Our primary focus for 2013 will be finishing the transition to GEGL. We don't expect it to be an easy job: it's likely to keep us busy most of 2013, if not longer. You can help us to boost the development. Come join us to complete the rewrite and deliver the new generation of GIMP as a polished stable product.
GIMP gets ICC v4 color profiles support
2012-11-21

For the last few weeks GIMP has been capable of using ICC v4 color profiles thanks to a patch by Laurent Martelli who ported the color management plug-in to use LittleCMS v2.
There is also an ongoing work by Elle Stone to adapt that plug-in to the new GEGL-based architecture and make color space conversions just work between various bit depth precision levels — from 8-bit to 32-bit floating point.
Once it's done, GIMP will be capable of converting images between different color spaces with little to no loss of color fidelity. In fact, it already works, with some caveats.
Meanwhile Michael Natterer is busy porting plug-ins for loading and saving files to GEGL and GIO. The latter means that GIMP doesn't create temporary files anymore when loading files from remote locations, and previews in the Open File dialog 100% match actual images.
There is still a lot of work to do before GEGL-based version of GIMP is completely functional. We encourage you to join the team and help making the future closer.
Google Summer of Code 2012 is over
2012-09-03

Four out of five GIMP students successfully finished their work in the Google Summer of Code 2012 program. Unfortunately one of the students wasn't able to complete all of the work.
The code written by the students has already been merged to main development branches and is expected to be available in the next releases of GIMP and GEGL.
While the first public version of the Unified Transform Tool will only be available in the 2.9.x series, new GEGL operations will be present in the next release of GEGL already.
The students ported the following GIMP filters to GEGL operations: Shift, Wind, Cartoon, Photocopy, Oilify, Softglow, and a variety of noise generators.
The GEGL-based node editor is a standalone project and will eventually be released separately.
It was a great summer. We thank all the students for participating and we would love to see them around in years to follow.
GIMP 2.8.2 released
2012-08-24

We've just released GIMP 2.8.2, the first update to the new stable version of GIMP. The update brings several dozens of fixes to various issues of all scales.
Most notorious bugs fixed are: not being able to remember JPEG saving options, slow canvas redraw, not showing page setup options on Windows. There's also a workaround for the bug that used to cause showing incorrect file size values on Windows. For the complete list of changes please see the NEWS file.
Additionally we did a lot of work to make a native build of GIMP for Mac a possibility. The official GIMP.app will be available soon. Windows installers of v2.8.2 will be available from the usual location shortly.
Beginning with this version we are also switching to a new versions numbering scheme. Final releases now always have even number of the micro version, and the versions in Git always have an odd number.
We are looking for Windows developers
2012-07-25

It's been a long time since we last had an active Windows-based developer. Consequently, GIMP has accumulated a plethora of bugs specific for that operating system. As much as we'd like to provide a smooth user experience for Windows users, we simply do not have the required human resources.
Hence, if you are an experienced Windows-based developer who is interested to help GIMP become a first-class citizen in the Windows world, please get in touch with us. Our main communication channels are the gimp-developer mailing list and IRC. Here is the list of all reported bugs for the Windows version of GIMP.
If you go for IRC, we recommend sticking there for several hours, since we are mostly Europe-based, and you maybe aren't in the same timezones span. Most development talks happen on IRC anyway, so staying online helps the communication.